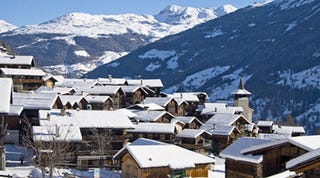 If Grimentz looked like the poor relation of chic ski resorts like Verbier, it might get a whole lot poorer now that property promoter Eric Arnoux has set his sights on the self-proclaimed 'cultural jewel' of Valais.
The French entrepreneur who lives in Geneva had planned a vast project in Grimentz – the residential development Hameau des Bains and the hotel Inalp, totalling around CHF150m. But despite considerable investments in these ski resort residences, including the local councils and British first-time holiday home buyers, the project has now stalled. Worryingly for the private citizens who were hoping to own a slice of the hugely lucrative Swiss property market, Arnoux's background may give a clue as to how this story might end.
As it turns out, Arnoux has around CHF30m of debt in Switzerland. In France, which he left in disgrace, he was the director of dozens of property firms that went bankrupt or were left as empty shell companies after he exited them.
Arnoux is hiding behind a complex web of companies, which make it now impossible for the authorities to touch him. In the case of the Grimentz project, the developer is Swiss Guernières Résidences, which is owned by Lux Planet, which is owned by Pure Concept Investment Fund SICAV in France, which is owned by Pure Concept Management, which is owned by Frenchman-living-in Switzerland Arnoux.
While the sites in Grimentz are crumbling under debt, the local authorities are starting to realise they may have fallen for criminals. Arnoux and his business partner, Belgian Thierry Dubuisson, have left the developing company and transferred earnings to their other companies, out of reach for plaintiffs who are now seeking court action to reclaim their investment. One early-stage investor from the UK says he may have lost GBP2m (CHF3m).
Unfortunately for those who fell for the famously charming Arnoux and his showy lifestyle, driving the lasted-model black Ferrari from his villa on the shores of Lake Geneva to the best restaurants in town, the signs were there.
Arnoux has several bankruptcies to his name and was subject of a serious criminal investigation into his use of undocumented migrants on a development site in the ski resort Megève. It is now down to the courts to stop Arnoux from reoffending, although the financial damage he has done to suppliers and investors past and present may prove impossible to repair.